I'm a huge propionate of buying pre-loved, especially when you're looking at luxury items.
Often times, designer and luxury goods are made by artisans and craftsmen using better quality materials, so they hold up over the years.
Most of my wardrobe, both luxury and contemporary is comprised of second hand, pre loved items, and I'm proud of that.
But some times it just makes more financial sense to buy new. So for today's blog, I wanted to chat about when you should buy your luxury items new and when you used buy used.
This blog contains affiliate links. They are placed for your connivence. If you choice to use them, we earn a small commission that we use to support this blog. Thanks.
Save with Rakuten
While we will cover this a bit later in the blog, I wanted to make sure ya'll were aware you can save big on luxury purchases with Rakuten!
Rakuten is an automatic cash back service that gives you a percentage back for every purchase you make at participating stores, including some of the top luxury department store.
And with Black Friday & Cyber Monday quickly approaching, many of these stores will be offering 2x-3x cash back on your purchases through Rakuten on top of other sales events.
Rakuten is free to join and they are currently offering a $40 cash back bonus on top of whatever cash back your earn with your first qualifying purchase when you sign up here.
Buy New When It's Cheaper From The Store
Surprisingly enough, some bags are cheaper to buy in stores new than they are second hand.
While you might think this should be the other way around, certain luxury goods, such as Brikins, Classic Flaps and certain styles from Louis Vuitton to name a few are made in limited quantities with really high demands.
So naturally, they get bought up and sold on the resellers market for steep profits. If you're willing to pay upwards of a 30% mark up to get your hands on a dream bag now, then go for it.
However, many of these bags, while short on inventory, are constantly in production, meaning that with a little bit of patients, you'll likely be able to buy the bag in stores.
Of course these stores are doing what seems to be quarterly price increases nowadays. But a 10% increase in price is still less than a 30% mark up on the resellers market.
Defiantly give the boutiques a good look before making the jump and buying second hand, if you're looking to save money. As mentioned in my blog about Speedy's , I was interested in getting a Speedy 20 in the giant monogram print and thought for sure that I would be buying pre loved. However, after checking the Louis Vuitton site, the bag was actually over $300 cheaper new than used.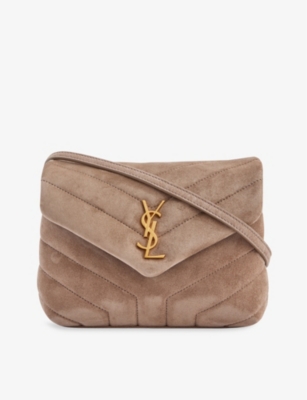 Shop new Toy Loulou at Selfrides for $1,480 USD
Buy Used for Passing Trends
If you're looking for something that is super trendy, then I would highly encourage you to buy pre loved IF its cheaper.
Trendy pieces are more likely to cycle in and out of your wardrobe and they don't generally hold their value as much as classic house staples do. This means that they end up flooding the pre loved market at steeper discounts than they would have been in stores.
Often times, you can find bags that are still trending on the pre loved market in excellent to new condition for a lot less than in stores.
A small Balenciaga Hourglass bag for example starts retailing for $2,550.00 USD. But you can buy one in excellent condition for $1,350.00 USD–that's a savings of over $1,200.00USD for you.
And because people typically cycle through trendy pieces faster, you'll likely be able to sell your item on for the same price that you bought it for used, meaning you lost no money on that transaction.
While not a trendy piece, I bought my original Louis Vuitton PM agenda for $125.00 USD pre loved, used it for a couple of years and then was able to sell it on for exactly what I paid for it. Had I bought it new at $450.00 USD, I would have been at a loss.
Shop Balenciaga Hourglass handbags on Fashionphile
Buy New When You Can Earn Points, Rebates and Use Discounts
You can absolutely buy new luxury items at a discounted price if you play your cards rights.
Many department stores such as Nordstrom, Saks, Nemium Markus, Bergdorf Goodman and the likes run promotional deals where you can earn gift cards for the shopping you had planned to do anyways. These stores also happen to carry luxury boutiques, so you can use these promotional gift cards to get a percentage off your luxury item.
Many of these stores also offer store cards that you can sign up for and earn points when you should. These points can then be used for additional savings in stores. Only you can make the determination on if signing up for a store credit card is worth it for you and your finances. However, if it is, then it can be another good way to get designer items at a discounted price.
If you don't want to open up a store card, check to see if the current card you use offers a point system that you can use towards larger purchases. We use our cards for routine purchases for home and work that have to happen anyways and build up points that can be used for shopping later.
Lastly, if you rather stay away from credit, you can still get cash back on some luxury purchases with Rakuten.
I know I talk about them almost ever post, but you can really save a good coin using them. I talked about it in this blog here, but I bought my Toy LouLou bag new for less than a $1000 after rebates from our card company and Rakuten combine.
Department stores tend to give the best cash back during major shopping events, upwards of 15% on top of any other promotions that they are holding, so try ant time your trips around then.
If you haven't signed up for Rakuten already, then use this link here to save an additional $40 off your first qualifying purchase.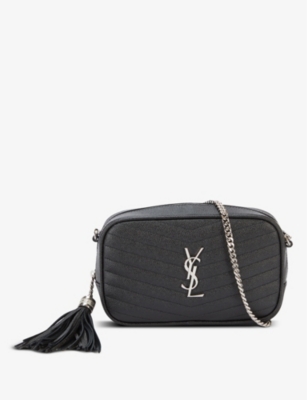 Shop Mini Lou Lou on Selfridges and save hundreds + cash back with Rakuten
By Used If the Item Doesn't Hold Its Value.
As touched on above, not all luxury pieces hold their value. While they will likely remain an asset that you can liquidate if need be, you'll likely take a loss if you do.
That said, monetary value isn't the only reason why we buy luxury items. We buy them for the beauty, the quality and for sentimental reasons.
This is why I highly suggest that if you're going to buy a luxury item that will depreciate in value, buy it used in good to new condition.
I have done this with much of my luxury wardrobe and have saved so much while building up my core pieces.
I just bought a brand new pair of $1,600 USD Saint Laurent Boots that have never come out the box for $325.00 USD on Fashionphile because shoes (typically, sneakers can be different) depreciate the moment you leave the store.
Likewise, I bought my Prada Sound bag in excellent condition with the box for $415.00 USD when it was being sold new in stores for about $2,200.00 USD. While it's a beautiful bag, it doesn't carry much demand and thus doesn't;t really have a resale market for it.
Shop pre loved Lady Dior's on Fashionphile
Buy New For the Experience
Sometimes it's not about the money, it's about the memories.
If you're looking at a luxury item and it will cost about the same buying it in stores vs buying second hand for the same quality, then buying in stores could be worth it.
Many stores do their best to make sure those shopping with them have the best experience possible. They will offer drinks, walk you thought the items they have in stock, allow you to try them on and show you the different options that you have to pick from. They will do their best to answer any questions you may have to help ensure you get a product that is right for you.
When I bought my Neverfull MM, I choose to buy at the boutique even thought it cost a little bit extra. The difference between new and used at that time was about $50, so it wasn't a significant difference.
But it was so nice getting to go in, see and feel things with my hands, learn about different items and just have an over all lovely shopping experience. I even got a free gift for stopping in. For me, that experience was worth the $50.
Shop Louis Vuitton Speedy 20 new online or used on Fashionphile
Final Thoughts
Whether you bought it new in stores or on consignment, a nice handbag is always fun and should be a proud moment. Regardless of its status of pre loved or new, these bags are still expensive items any way you look at it.
When considering if you should purchase used or new, I really like to consider the value of the bag over time to get a better understanding on if the bag is worth the full retail luxury bags.
I also like to consider if a purchase would be less expensive with points and cash back like from programs such as Rakuten and finally what type of experience I would like to have with the purchase.
Ultimately which ever way you decide to go, be sure you're purchasing an item you're excited about!
Have you've ever bought a luxury piece second hand? Share your experience with us down below or via Instagram!