This post contains affiliate links. They are placed for your connivence. If you choose to use them, I earn a small commission that I use to support this blog. Thank you.
Ya'll gave me plenty of ideas of things to write about over on IG and one of them was summer swimwear for expecting moms.
For many, finding a bathing suit to wear feels like a daunting task already. Then add to that dread, needing to find something that will accommodate a growing body. Many moms get overwhelmed with the thought and just opt out of bathing suits all together.
This is heart breaking because your body is awesome and is doing amazing things! You deserver to be comfortable and feel amazing pool or beach side during the heat of the summer.
So in today's blog, I'm sharing with you the top tips I have when it comes to finding the prefect bathing suit for you while you're pregnant( especially if you're showing and ready to pop!)
Size Up
Unless you are ordering maternity swimwear specifically (which I couldn't find any that I really liked), you'll want to go up a size.
While my normal sizes still fit even at 40 weeks, I found that going up a size relived some pressure off my lower belly and breast, feeling MUCH more comfortable.
Even if you aren't showing just yet, going up a size may still be a good idea. I found that way before you could visibly tell that I was pregnant, I always felt super bloated and having anything pressed up against my stomach was uncomfortable. So if a slightly larger size will fit, it might be more comfortable for you.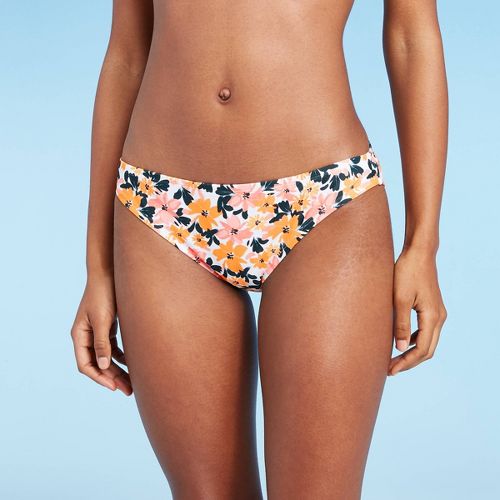 Suits with Some Structure
String bikinis are cute and everything, but they offer ZERO support. And the further you go on in your pregnancy, you're going to really need that.
I highly recommend finding a bathing suit that has a bit more structure to it that can offer some support while your splashing around in the water.
Personally, I have found that high waisted bottoms have given me the most support while I'm at the beach or there pool and love that I can wear it multiple ways as well.
As far as tops go, I defiantly prefer swim tops that are structured more like sports bras. These keep the girls in place while still looking great.
Skip The One Piece
Of course, the bit of advice is highly subjective, and If you feel more comfortable in a one piece, then go for it!
That said, I would skip over a one piece, especially if you're just buying normal swimwear and not maternity swimwear (though I'll link some cute maternity ones below for those that are interested).
Every single one piece I've picked out never set right on my body. My belly would end up pulling the suit too far down and my breast would not be properly covered.
Of course a maternity swimsuit would probably adress this issue. But many of them just weren't my style and seem expensive for an item that you'd only be able to wear for just a season.
Cover Up's
I think the pregnant body is amazing! But there are many women out there that would prefer to be a bit more modest and that's okay too.
Swim coverups are a great way to be able to have the comfort of a non contracting bikini, but still be as modestly dressed as you please.
There are a few different types of cover that you can get for yourself. The one that most folks are familiar with is the surong style cover up that covers from the was it down. but sites like Boohoo, Forever 21 and Victoria Secret also sell cover ups that wrap around like a robe or wear like a romper. They all come in varying levels of thickness too, so you can easily tailor your coverage level to something you're comfortable with.
Protect Yourself
Ok, so not really swimsuit related, but still important, especially for pregnant mama's.
Protect your skin and eyes while you're in the water!
Theres nothing better than that glow you get from the summer sun. But when you're pregnant, your skin is especially sensitive to the UV rays of the sun.
Compound that with being in the water which is going to refract some light back towards you and you're likely to burn.
While I'm enjoying the water, I make sure to bring a wide brimmed hat and some sunnies with me to protect my eyes and face. I also make sure to wear plenty of sunscreen and keep a full bottle of water near by.
Glam it Up
Lastly, if you're looking for a bit of confidence while you're out by the water this summer, try adding a bit of sparkle to your body.
I remember when I was pregnant with Edison, my eldest, I loved wearing temporary tattoos for a little bit of added glam.
With Franklin and Baby G, I've been enjoying wearing body glitters.
Whatever you decided to wear for a bit of sparkle, be sure to check that it's safe for you to wear during your pregnancy.
The most important thing when picking out what your going to wear to the pool or beach is that you feel comfortable and confident in your own skin.
Finding a swimsuit and accessories that fit your body type and support your growing belly feels overwhelming for many expecting mothers and options can feel limited.
But it IS do doable.
Don't feel like you have to limited yourself to just maternity swimwear either. Follow the tips and advice given above and you'll have a whole host of option available to you no matter what your style is.
Are you still looking for your prefect summer swimsuit? Share with us what your style is down below!