This blog contains affiliate links. They are placed for your convenience. If you choose to use them, I earn a small commission that I use to support this blog. Thanks.
So toward the end of last summer, I wrote about the Chloe Woody Slides, which is a VERY poplar blog on this site (Thanks!)
Now that I have had a bit of time to sit with the Woody Tote, I thought that it would be a good idea to review this bag for ya'll as well.
Currently it's a hot trendy bag and with a starting price at under $800 for the mini, it's a piece of luxury that's in budget for a lot of folks.
So is this bag worth it for you? In this blog, we will try to help you answer that question by giving you some comparison specs as well as sharing my own experience with it. Hopefully by the end of this post, you'll be able to make a confident decision on if this bag is truly for you.
Save BIG with Rakuten
Ya'll probably tired of hearing this, but I have to keep saying it–Rakuten is one of the best ways to save money and earn cash back when making luxury purchases at participating stores.
Stores like Nordstrom, Saks Fifth Ave, Neiman Marcus , Bloomingdales and Bergdorf Goodman, routinely offer cash back rebates thought Rakuten– upwards of 10-15% at times.
This is cash back ON TOP OF the current sales they have going on. I would be a bad friend if I didn't tell you about! Signing up for Rakuten is as easy as clicking this link right here.
And best of all? Get an additional $30 cash back with your first purchase when you sign up through our link! Thats an automatic 4% cash back on the Chole Woody Tote mini, in addition to the 10% cash back they are offering at the time of this post. You really can't beat those saving.
The Wood Tote Basics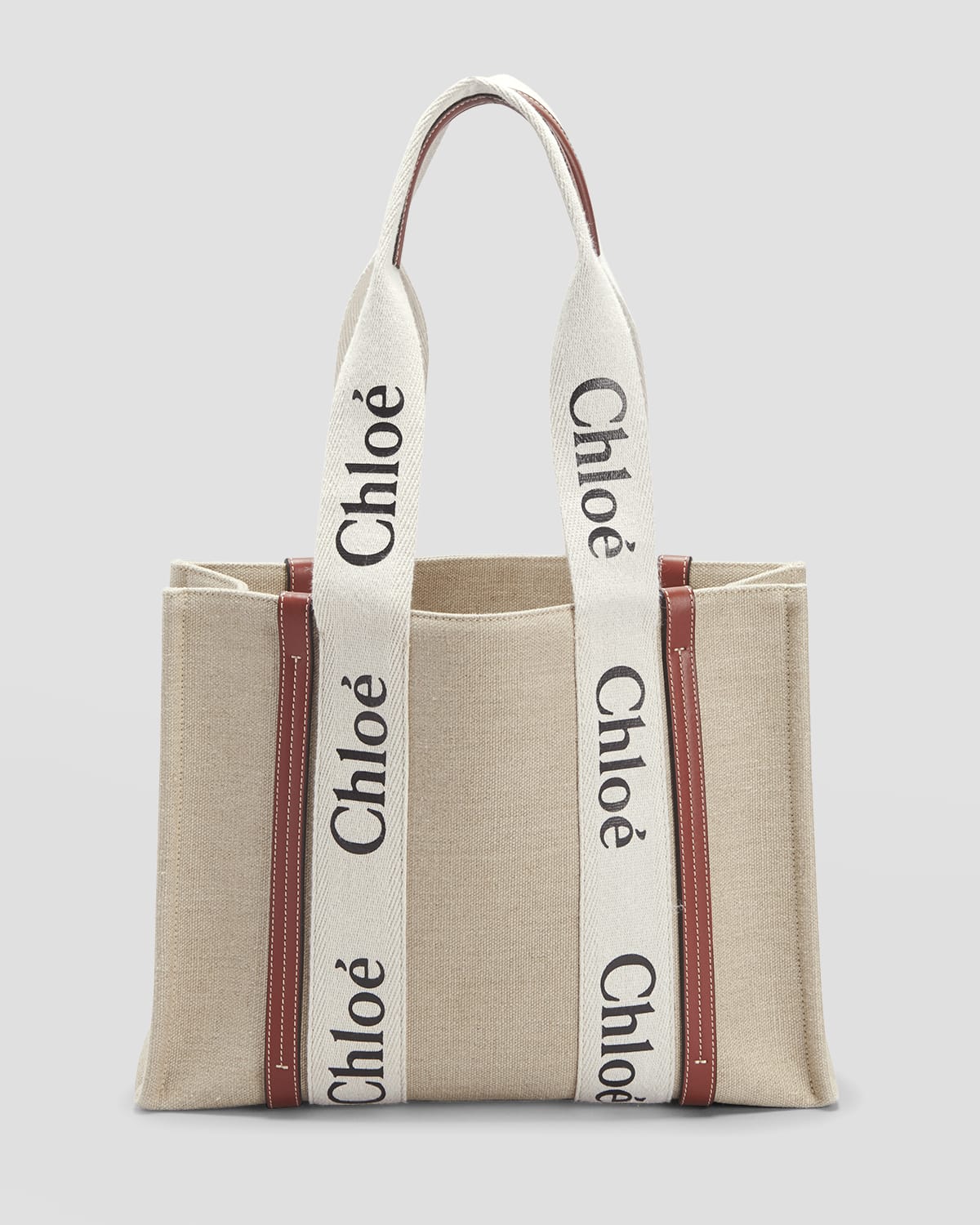 Base length: 16.9 in
Height: 13 in
Width: 4.5 in
Drop: 10.5 in
When I first started kindergarten we were all given little book totes and that's exactly what the Woody tote bag reminds me of.
And I mean this in the most positive of ways.
This bag has the classic book bag structure with a simple modern look. Chloe has definitely been giving us logomania with their Woody collection. But they didn't over do it and I like it.
It comes in 4 sizes from mini to large, with a variety of finishes to choose from starting at $725.00USD and going upwards of $2,540.00USD depending on what you get.
The inside features a large cavity with a zipper pocket on one side and a slip pocket on the other. These are great for some organization, but this bag highly benefits from adding a bag insert (like the one I got here).
Price and Comparison
I purchased the Medium Woody Tote from Neiman Marcus for around $900 (plus 10% cash back with Rakuten). At the moment, you can purchase the Medium Woody Tote brand new for around $950.00USD before any sales or discounts. For this price, you are getting A LOT of bag.
Of course, there are going to be other totes on the market that will function the same for a considerable amount less. But if you want a luxury bag and looking to save some money, this bag is probably going to be your best bet.
I would compare it to the Neverfull or OnTheGo MM sizes. Its narrow boxy structure does limit its capacity some, but it will still hold pretty much anything that you would want to take with you to the office or a meeting.
Since the Neverfull is a pretty well known bag and both have canvas with leather trim options and similar interiors, I think it makes a great luxury comparison to put the Woody tote into perspective.
Currently, the canvas option for Neverfull starts at $2,030.00USD (when I purchased it 3 years ago , it was just about $1,200.00USD). You can differently find these bags pre loved those for a considerable amount off. Even still, a used Neverfull will generally still be more expensive than a new Woody Tote.
I do have to mention that the Neverfull comes with coated canvas where as the Woody is untreated. I would imagine that this factors into the price a bit. The never full also now comes with a pouch and the Woody does not.
Even still in my option, the Woody Tote is overall the best bang for your buck when it comes to luxury tote bags.
If you would rather look at a compemtoary option, then don't worry, I got you with some amazon options further on in this post.
What Fits?
I purchased this bag wanting something that I could use for work or the beach, and it definitely didn't disappoint!
While I try not to overpack my bags (your girl has a bad back), I can easily fit:
Georgie Portfolio with my laptop and pen inside,
iPad
Full sized zip wallet
Hand cream
Pochette Accessories
Cles Pochette
Camera/ lenses.
Water bottle
If I needed to switch this out to be a beach bag, it would easily hold a change of clothes, my Woody Slides and a beach towel for myself.
Amazon Finds Trends
Being 100% honest, while I still think the Chloe Woody tote is a good deal for luxury, it's still an expensive bag.
Not everyone want to spend that type of many on a bag and I hear ya. Of course I got options for you that are on trend and come with Prime delivery.
While I don't own this bag myself, the Marc Jacobs 'Tote Bag' is a super close comparison to the Woody Tote and comes in at a fraction of the price. This bag has also been super popular, has been noted to be very functional and comes in a range of options.
In addition to this contemporary designer option, Amazon also offers more…generic tote options that. are still on trend and typically come in under $100 bucks. I'll leave some links below but check them out here as well.
Marc Jacobs bag on Amazon. Click to shop.
Overall Thoughts
The Woody Tote is a wonderful, large sized bag that offers great value for luxe lovers.
What I find amazing is that you can still get this bag for under $1,000.00 USD. (And you can get even more off shopping through Rakuten)
I've really been enjoying using it as a briefcase for work now that I'm able to get out the house a bit more. It holds my portfolio wonderfully and the extra leather on the shoulder strap make it really comfortable to carry.
I do worry about the materials getting dirty or color transfer since it's untreated. However, I'm going to try Scottsguard on it, just like how I did with my slides.
Sometimes I also wish that I had gone down a size. While the medium holds the prefect amount, it does look oversized on me and aesthetically, I prefer bags that a more proportionate to my size. I do worry that the interior of the small size will be too small to be useful for me. So I'm sticking to the one that I got.
Another cool thing to note is that Chloe is now coming out with recycled options for materials. Anything that is sustainably sourced is a move in the right direction IMO so this is something that I want to explore further with them.
If you care considering the Woody Tote, I think it would be an excellent addition for most anyone's bag collection, and certainly prefect for spring and summer. Do you want this bag? tell me about it below.